Experience Nashville Tours...
... is a great way to learn (and see) downtown Nashville up close and personal. The professionally guided walking tours will show you the highlights that make it "Music City".
Our tour guide...
... Kaysie Young moved to Nashville to pursue her love of music and songwriting. Learn more about her under the "GUIDES" page.
NASHVILLE: Naughty & Nice Trivia books...
These informative and easy-to-read books can be purchased at the TRIVIA BOOK page.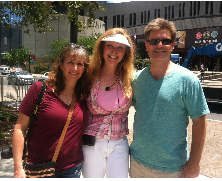 Book a tour today...
... by finding an available tour day/time at the "BOOK A TOUR" page. Reservations are made by calling: 615-788-6384 or emailing: expnashvilletours@gmail.com