"Famous Footsteps" Walking Tour
Johnny Cash, Patsy Cline, Hank Williams, Dolly Parton, Keith Urban, Elvis Presley, Willie Nelson and Tom Ryman are just a few of the people who have made their mark on the historical city of Nashville. On this tour you'll learn about the people and places that helped make this town "Music City".
You won't want to miss this FUN and INFORMATIVE Tour!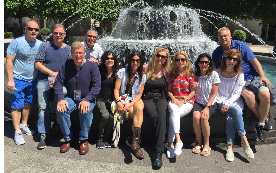 Tour Times: *By Reservation (Calendar with the tours available is at the "BOOK" page)
Tour location: Begin at Ernest Tubb Record Shop, 417 Broadway - Nashville, Tennessee 37203
Tour length: Approximately 2 hours
Tour Distance: Approximately 7 blocks
Tour Prices: $30 for Adults • $20 for Seniors -$15 for Children (12 & under) • FREE for Military Members
*

Tour times and days are subject to to change due to inclement weather conditions, tour guide availability, etc.
Please make

your

tour reservations ahead of time by calling: 615-788-6384 or by emailing: expnashvilletours@gmail.com.
Advance (online) payment is preferred (but payment can also be made on the day of the tour).